CSUEB prepares for campus sustainability day
It's been said time and time again, "We need to be more environmentally friendly." It's easier said than done but the question is how do we make it happen? To assist in answering that question Cal State East Bay hired Jillian Buckholz as its first director of sustainability.
Buckholz was hired last year the same year as CSUEB's first Campus Sustainability Day. In her role, Buckholz is responsible for implementing systems to create a sustainability conscious campus and describes sustainability as living in a way that has the least impact on the environment while having the most benefit to your community.
She received her Bachelor's degree in Environmental Geography from Ohio University, and was then urged by professors to attend graduate school. Focusing on environmental studies, she felt she needed to be in California and decided to attend Chico State University.
While in her graduate program, she decided to tackle the energy policy for the California State University system. She found that 23 campuses of the CSU's had one energy policy, that according to Buckholz cannot be effective when all campuses are geographically and demographically diverse.
"
I really just want every student that graduates East Bay to understand what sustainability is…"
— Jillian Buckholz
"We should have energy policies based on climate zone," said Buckholz. She explained that schools like Humboldt State University don't have air conditioning because it doesn't get too hot,  while Cal State Bakersfield in the Central Valley, which is known to have high temperatures, needs AC. After the completion of her research, CSU Chico offered her a position and she became the first sustainability officer in the CSU system.
This year, Campus Sustainability Day will be held on Oct. 21, in the middle of "Make a Difference Week." Last year's event was focused on California's drought. This year, the day is all about food. Buckholz has collaborated with the Center for Community Engagement, Office of Sustainability, LEEP, AACE, Student Health & Counseling Services, and Student Life to increase the scale of the event.
Created in April 2002, Campus Sustainability Day started off as a webcast conversation that centered on discussion about campus sustainability.  From 2003 to 2010, this event was hosted by The Society for College and University Planning. Now produced by the Association for the Advancement of Sustainability in Higher Education, organizations, universities and communities have broadened their spectrum, adding larger scale events to celebrate the day outside of the webcast.
Campus Sustainability Day will kick off at 11 a.m. with a live performance on the Agora Stage by indie alternative band Wander. There will be more than 20 tables with information and resources pertaining to food. One table will consist of students who will discuss food waste in CSUEB's dining commons, another with information on waste management. Pollinate Farms from Oakland will be present to discuss bees and the role they plan in our environment. Fresh Point, who provides all of CSUEB's produce, will also be amongst the organizations present at the event.
After the concert, in the Multipurpose Room inside the New University Union, there will be a viewing of the documentary "Dive!", a film about dumpster divers in Los Angeles who plunge through the garbage cans of supermarkets and to their surprise find thousands of dollars worth of edible food.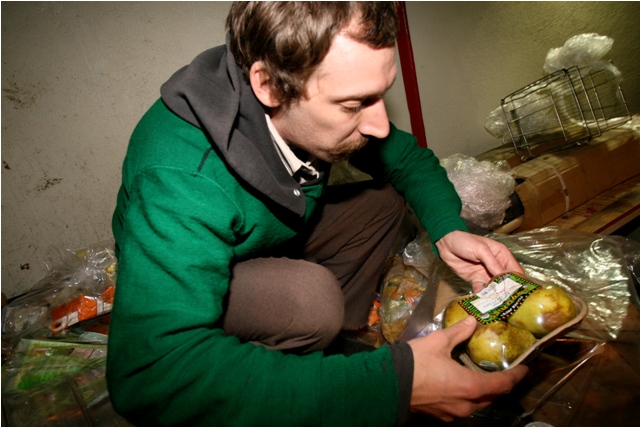 Following the film screening, keynote speaker Katie Cantrell from Factory Farming Awareness Coalition will discuss a diet for the drought; how a plant based diet is better for the environment than animal based.
Also on the schedule is the CSUEB Sustainability Showcase hosted by the Office of Sustainability and the City of Hayward. The topic will be how we're approaching sustainability when it comes to transportation, compost, communication and big data. Afterwards, attendees will break into groups based on their interest and brainstorm ways to begin to tackle some of these issues as a community.
To close out the day, there will be a presentation on the Clinton Global Initiative. The Clinton foundation wants to support young people who have great ideas. Through their Clinton Global Initiative University, they connect students with the right people to turn their ideas into action. CSUEB is a part of the CGI U network and commits $10,000 to students who are accepted to their annual conference. Last year, six CSUEB students attended the conference.
"I'd like to see the waste handled differently on campus," Buckholz said. "I'd really like us to be a zero waste campus where we're sorting on site, we're thinking about reducing what we're using. We're thinking about where those things are going on campus."
The state of California recently mandated that universities separate their organic material from our waste stream. According to Buckholz, the Facilities Development & Operations hired a waste consultant to look at what we're doing on campus in relation to waste and help us come up with a plan that we can implement.
"I really just want every student that graduates East Bay to understand what sustainability is and understand that it's really this interconnection between environmental and socioeconomic issues, it's more than just recycling, and take the fundamental basics of sustainability out into their life with them regardless of what their major is," said Buckholz.
Campus Sustainability Day is a part of Make a Difference Week which will begin on Monday, Oct. 19 and run through Friday, Oct. 25.